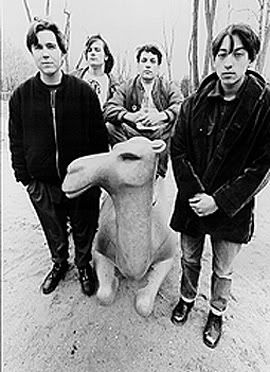 Live set from Polvo's "final tour" in 98.They reformed last year and seemed to have liked playing together again.They are in the studio recording a new disc.
Polvo
01-08-98
the Black Cat
Washington Dc
Rec: fob sonic studio dsm6s>Sony D6
trans: master cassette> aiwa ad-f810>tascam da-30mk2>coax>MAudio 24/96>wavelab 5>CDwav(track split)>flac
01. tune up
02. Enemy Insects >
03. Feather Of Forgiveness
04. Sparks >
05. Batradar >
06. the Secret's Secret
07. Title Track
08. New Ash
09. Thermal Treasure
10. Rock Post Rock
11. Bombs That Fall From Your Eyes
from wiki:
Polvo is an American indie noise rock band of the 1990s from Chapel Hill, North Carolina. The band was fronted by guitarists/vocalists Ash Bowie and Dave Brylawski. Eddie Watkins played drums, and Steve Popson played bass guitar.
Polvo are widely considered to be standard bearers of a genre which came to be known as math rock[1], although in interviews the band disavowed that categorization[2]. Their sound was defined by complex and dissonant guitar harmonies and driving rhythm, complementing cryptic, often surrealist lyrics. Their sound was so unpredictable and angular that the band's guitarists were often accused of failing to play with correctly tuned guitars. Polvo's songs and artwork frequently featured Asian/"exotic" themes and references. The band's name means "dust" in Spanish; in Spain it also is a slang word for sex.
flac
mp3